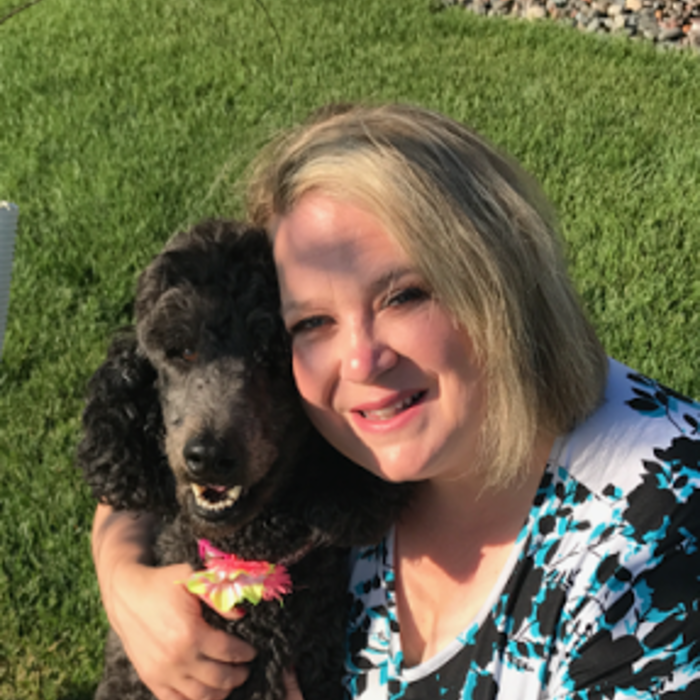 Kari Wittmer (Owner)
Dr. Kari Wittmer, a Coon Rapids native, has owned and operated Andover Animal Hospital since its opening in 2007. She obtained her undergraduate degree at the University of Wisconsin-River Falls and completed her Doctor of Veterinary Medicine (DVM) degree at the University of Minnesota.
Professionally, Dr. Wittmer likes to stay on the cutting edge through usage of technological advancements such as therapy lasers and surgical lasers which help to decrease pain, inflammation, and accelerate healing. Her areas of interest include wellness care, developing lasting relationships with her clients, ophthalmology, and dentistry.
Dr. Wittmer and her husband have two children, Dominic and Gabriella. She spends most of her free time chasing after her busy toddlers! With any spare time she loves to practice dressage and jumping with her horse Sofa So Good.
Dr. Wittmer's furry family includes her cat, Whisper, and her Standard Poodle, Rainey.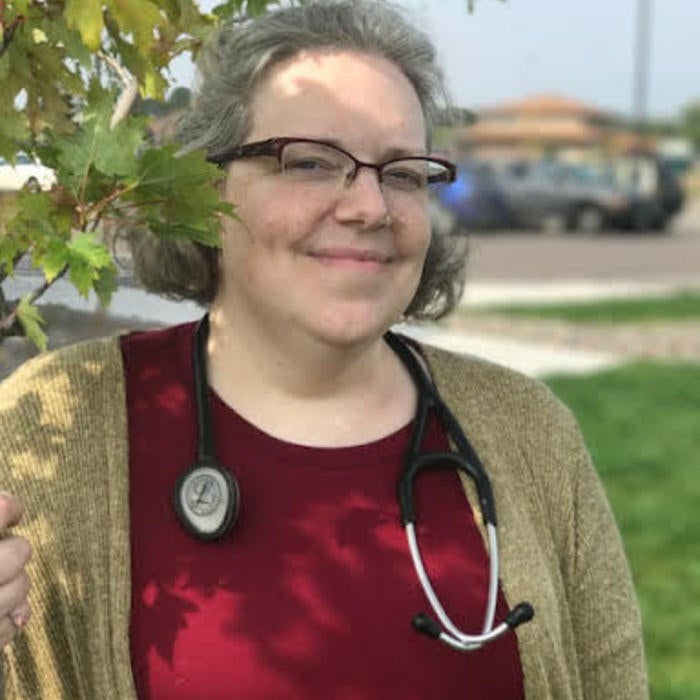 Joanne Kamper
Dr. Kamper, originally from Saint​ Peter, returned to Minnesota in 2009 with her husband Dave. She has been a member of the team since her return. Dr. Kamper obtained her undergraduate degree at Gustavus Adolphus College and completed her Doctor of Veterinary Medicine (DVM) degree at the University of Minnesota where she was a classmate of Dr. Wittmer. In her spare time she enjoys nature walks and art fairs. Welcoming Dr. Kamper home are her cats, TLC "3-legged cat", Mrs. Farsnworth, Pepper, and Mr. Pickles.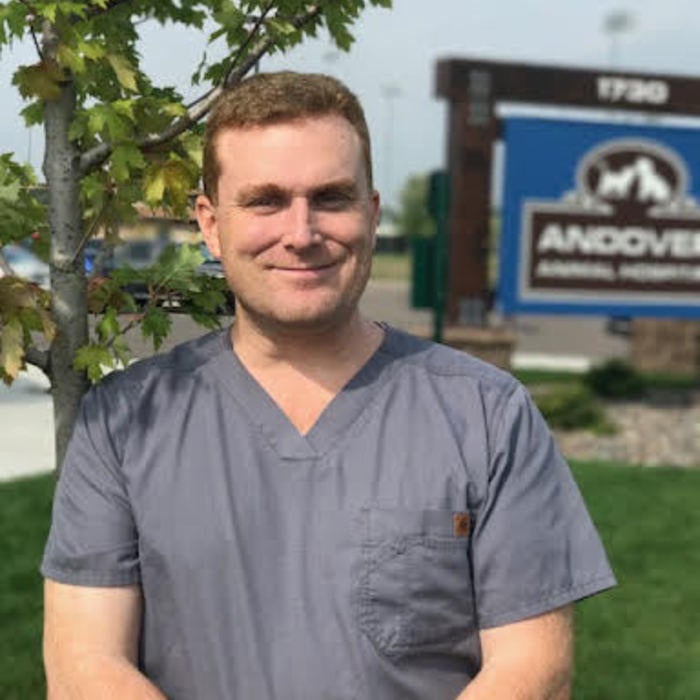 Craig Reiman
Dr. Reiman has been with Andover Animal Hospital full time since January 2012. He attended the University of Minnesota for his undergrad requirements and veterinary school, which he graduated from in 2004. Dr. Reiman grew up in Spring Lake Park and now lives in Ham Lake with his wife, son and 3 cats. In his spare time Dr. Reiman enjoys fishing (especially Northern Pike), video games, and home brewing beer and sodas. His favorite dog breed is Rottweiler, but he also has affinities for Boxers, Pit Bulls, Border Collies, and Cavaliers.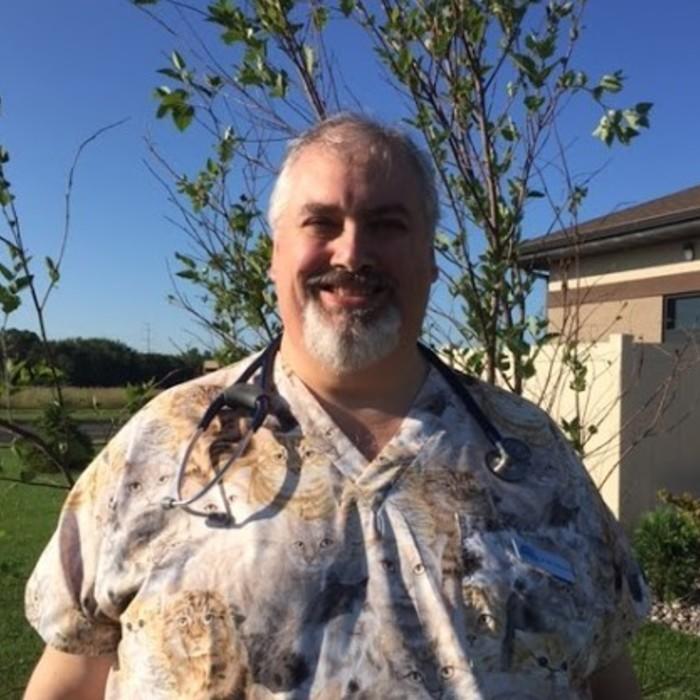 Jeff Wiemann
Pet- Ned, English Cocker Spaniel, 8 years old. He is a very loving and silly dog who loves to chase squirrels and on the couch.
When not working I enjoy spending time with my wife and dog. I also read a lot of fiction, watch movies and shoot targets for fun with shotguns and pistols.
I started out doing scientific research but was not fulfilled. The research world was just too far from everyday things in life that matter to me. Practicing medicine is very real and definitely what I should be doing with my life. I strive to become a better veterinarian and person, every day.
I really like cats, but dogs are my favorite animal by far. I am fascinated by the fact that humans and dogs have been living and working together for over 100,000 years. The bond between dogs and people is unlike that between us and any other animal. I can't imagine living without dogs.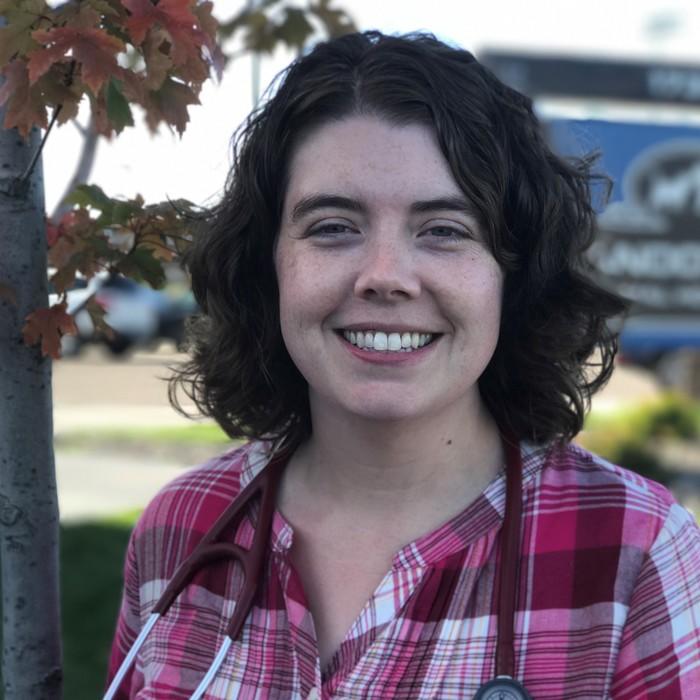 Christina (Tina) Froemming
Dr. Froemming joined the team at Andover Animal Hospital in Oct 2017. She is a lifelong Minnesota resident, growing up in a small town in northern Minnesota. Dr. Froemming
completed her Bachelor degree in Biology at Gustavus Adolphus College and Doctor of Veterinary Medicine (DVM) degree from the University of MN in 2006.
She was very excited when presented with the opportunity to rejoin Dr. Wittmer and her staff at Andover Animal Hospital after having trained under Dr. Wittmer as a new graduate.
Her professional interests include preventative medicine, senior pet wellness, dentistry, and dermatology.
Dr. Froemming along with her husband Shawn have 3 children, son Evan and daughters Avery and Ellie. When not working, Dr. Froemming spends most of her time with her family, the kids keep them very busy. In any spare time she enjoys following the local sports teams, baking, crafting. They also share their home with a mixedbreed dog (Jersey) and two cats (Latte and Stormy).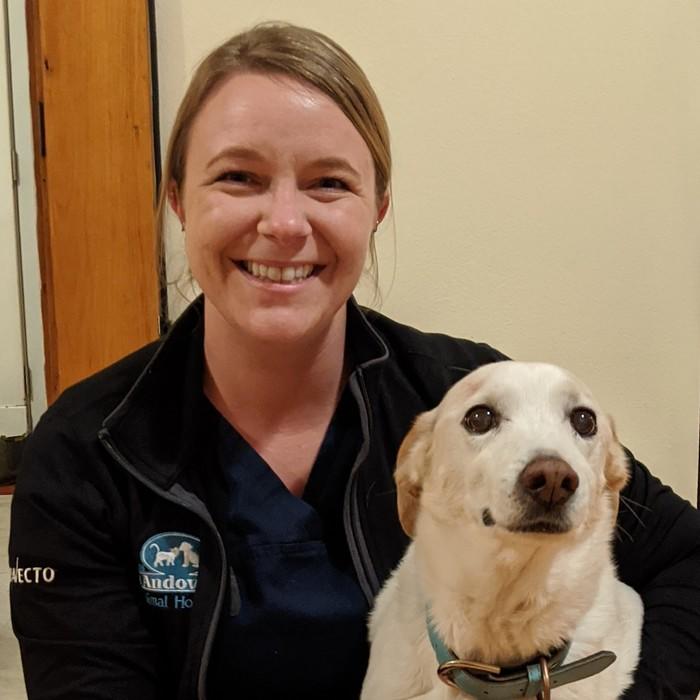 Katie Gilbertson
Dr. Katie grew up in northern Minnesota on a dairy farm. She graduated with her Bachelor's degree in Biology from The College of St. Scholastica in 2006. She worked at small animal hospitals as a receptionist and veterinary technician for 8 years. She achieved her DVM at Iowa State University in 2017. She worked as a mixed animal veterinarian for the first 1.5 years of her career then moved on to strictly small animal medicine when she started working here in October 2018.
Professionally, Katie enjoys soft tissue surgery, ophthalmology and cardiology. She also has a passion for preventative medicine and helping clients learn how to take the best care of their furry family members.
Katie's furry family consists of her terrier mix, Tucker, and a rambunctious cat, Millie. In her free time, Katie likes to explore new restaurants and breweries around the twin cities, cooking, going for hikes with her dog, golfing, and playing the piano.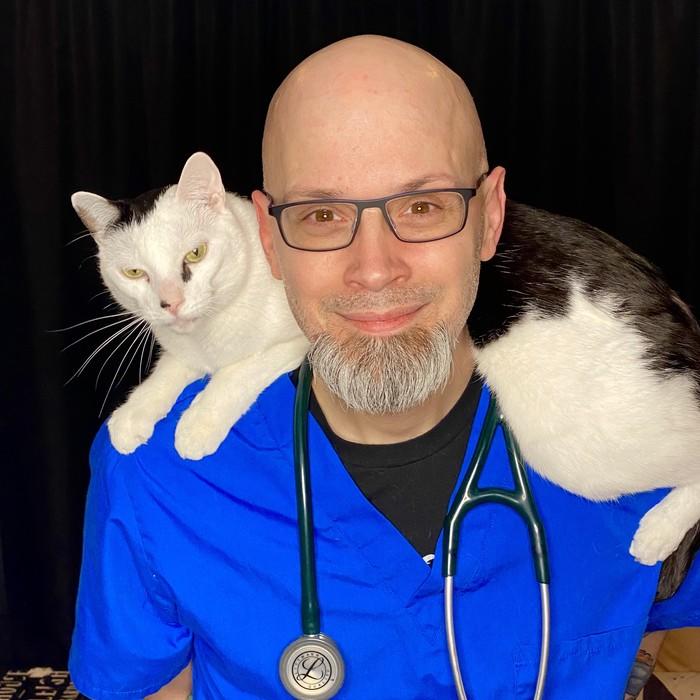 Dr. Will Howes
Bio coming soon!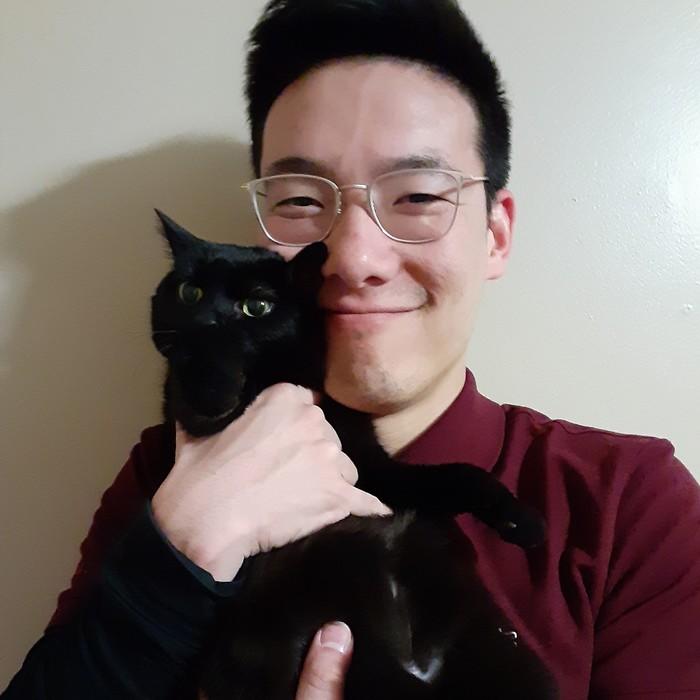 Richard Kuan
Born in Hong Kong, raised in Saudi Arabia and educated all over the world, Dr. Richard Kuan received an undergraduate degree in animal science from Fresno State University in California. He worked as a veterinary technician for 4 years. He did the majority of his veterinary education with Ross University based on St. Kitts and Nevis, a Caribbean Island. Afterward, he moved to Ireland where he received additional hand's on veterinary training at the University College of Dublin. Professionally, Richard enjoys soft tissue surgery, radiology, ultrasonography, and dentistry. He also loves getting to know his clients and their furry kids. Richard's furry family consists of Zazzle, a lovely but a bit sassy black cat, that is 100% that cat.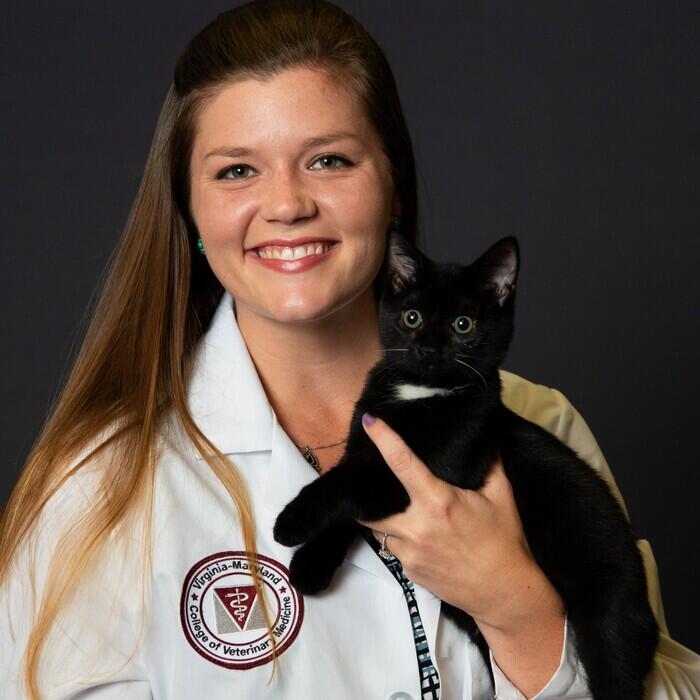 Angela Bladen Sharma 
Dr. Angela grew up in Maryland and attended Virginia Tech for her undergraduate degrees in Dairy Science and Spanish (Go Hokies!). She graduated from Virginia-Maryland College of Veterinary Medicine with her DVM in May of 2020. She is so excited to pursue her lifelong passion for veterinary medicine with the team at Andover!
Some of Dr. Sharma's veterinary interests include emergency, surgery and internal medicine. She feels honored to get to work with animals and their families for a living, and she strives to provide the best quality of life possible for our wonderful companions.
Angela and her husband have two adorable cats named Archie and Rooney. In her free time, she loves spending time outdoors in any way possible, traveling, reading, and riding her horse of 12 years, Iroquois. She can't wait to explore more of the beautiful state of Minnesota.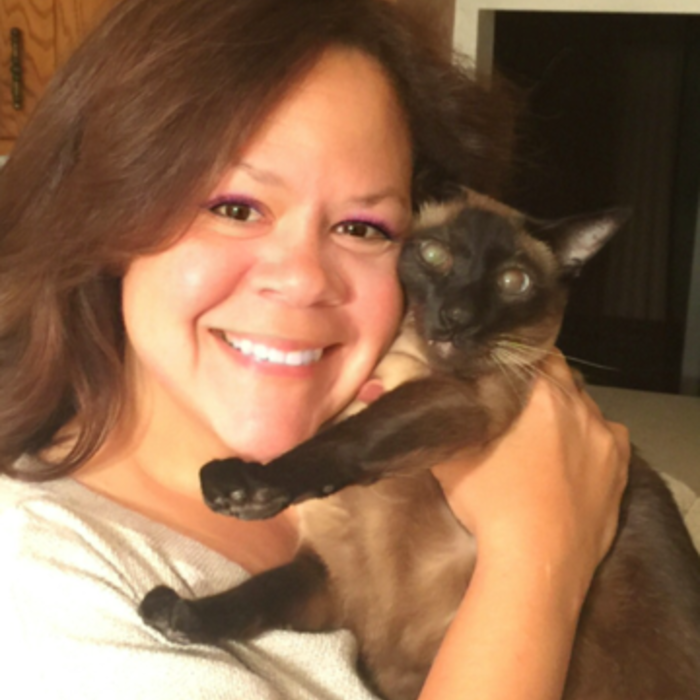 Sharon Nash (Hospital)
Sharon is a Certified Veterinary Technician that started with Andover Animal Hospital in June of 2015 as hospital manager. She received her veterinary technician certification in 1999 and worked as a lead CVT and management of several veterinary hospitals. She has enjoyed a 25 year career working in the veterinary field. Her experiences include working in emergency veterinary medicine, both as a technician and in management as well as working in research as a surgical technician. She had also received schooling in dental hygiene but working in the veterinary field is her true passion.

Sharon has an adult son and a daughter as well as a 20 year old Siamese cat named Sam, aka "Sham Wah" and a Shih Poo rescue named Penelope Rose affectionately referred to as "P-Woes". Sharon enjoys traveling, walking and spending time with her boyfriend, friends, family and pets.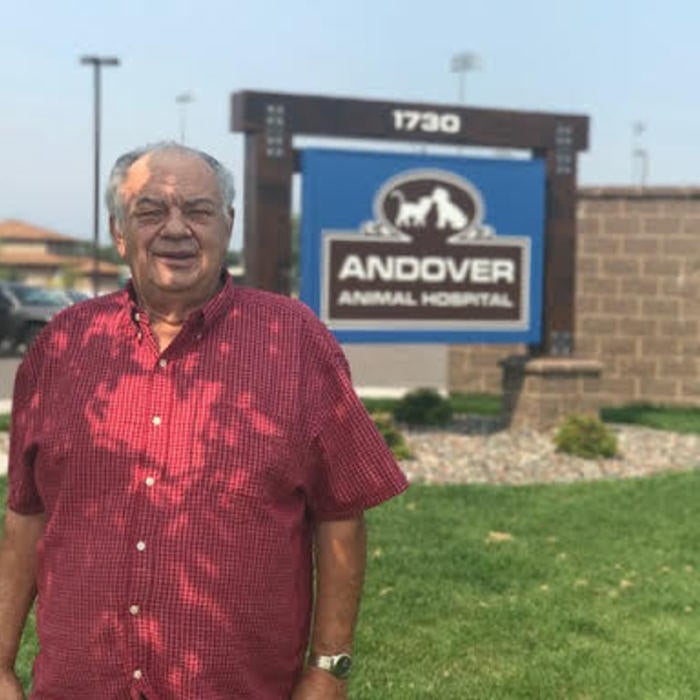 Don
Don has been with Andover Animal Hospital since the opening of the hospital. Don (Dr. Wittmer's father) works in the office balancing the books and doing payroll.
Don loves spending time with Mary K and his family. Together with Mary K, he is welcomed home by Peanut and Cookie.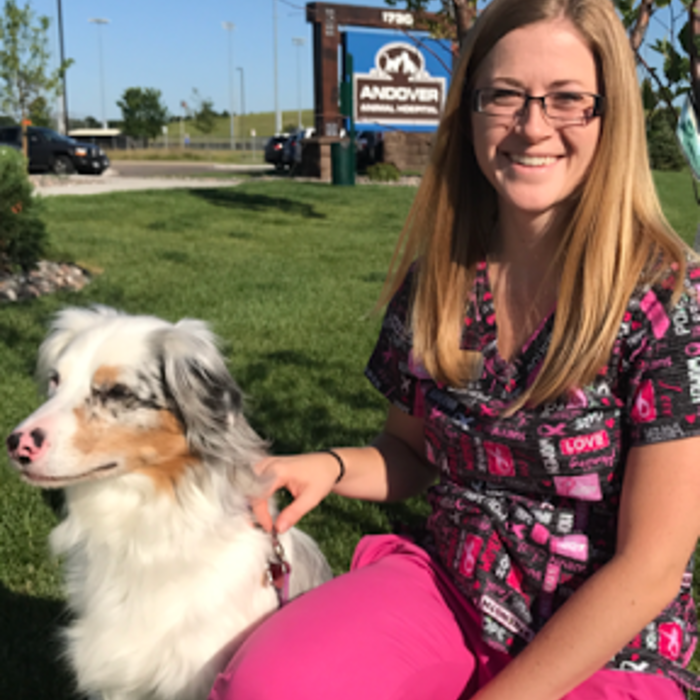 Mindi (Technician Manager)
Mindi began her career at Andover Animal Hospital in January 2012 as an extern. Shortly thereafter she graduated from Minnesota School of Business with her Associate in Applied Science (AAS) degree in Veterinary Technology. Mindi loves the variety of duties that being a veterinary technician offers, and especially enjoys assisting in surgery. Mindi has a strong compassion for animals, and has dreamed of working in the field since she was a little girl. In her free time Mindi likes to travel (Duluth and Europe being her favorite locations), hiking, camping, and spending time with friends and family. Awaiting Mindi at home are her husband Phil, a deaf Australian Shepherd named Dopey, a cavalier cocker mix named Olaf and her Ragdoll cat Misty.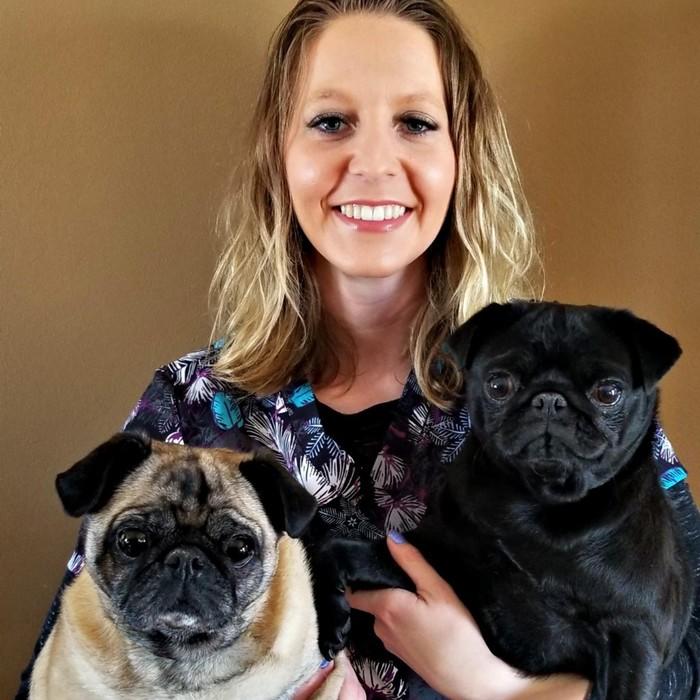 Krista (Assistant Technician Manager)
Krista graduated from Bemidji State University with a degree in Science and Argosy University with her Associate in Applied Science (AAS) in Veterinary technology and has been a Certified Veterinary Technician since 2014. Krista joined our team in December 2018. Krista has a strong compassion for animals and loves the variety that the career provides. Krista is welcomed home by her husband Scotty along with her 2 pugs; Charley and Pixie, 3 cats; Onyx, Whipple and Della and also a Dutch rabbit named Cookie. In her free time, she likes to hang out with friends and family, participate in outdoor activities such as hunting, fishing, and snowmobiling.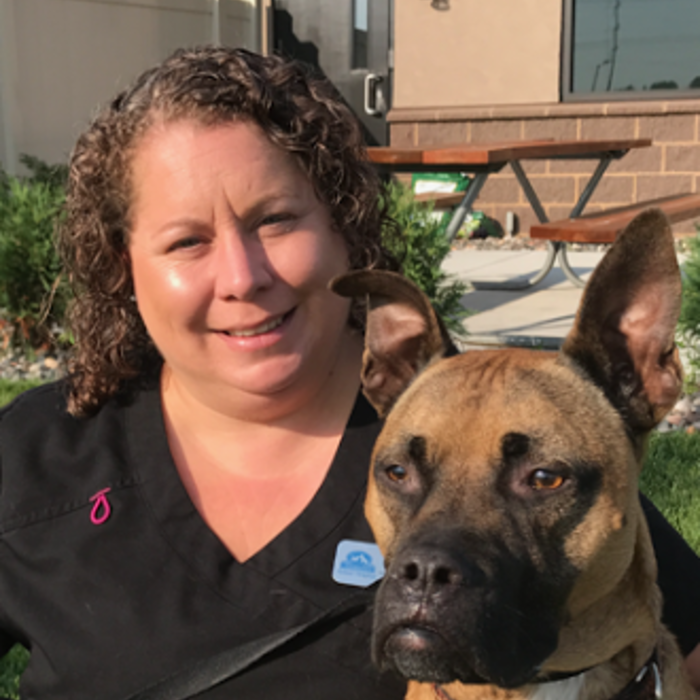 Tia
Tia joined the team in March 2008 as a Vet Tech. She started out her career working as a Veterinary Receptionist in 1999 and her interest drove her to pursue further technician training and included a stint as an emergency technician. Tia does a fabulous job keeping our shelves stocked with all the latest prescription special diets from Royal Canin and Science Diet and is one of our Certified Laser Technicians. Tia says some of the driving influences that she likes about her position are the variety that the position offers and the fabulous team she is blessed to work with. When Tia is away from work she enjoys reading and spending time gardening. Tia is welcomed home each night by her significant other Ben, Cooper her Chesapeake Bay Retriever, Blu her Boxer, Surly who is an American Staffordshire Terrier/Boxer mix and a rambunctious lab puppy named Porter.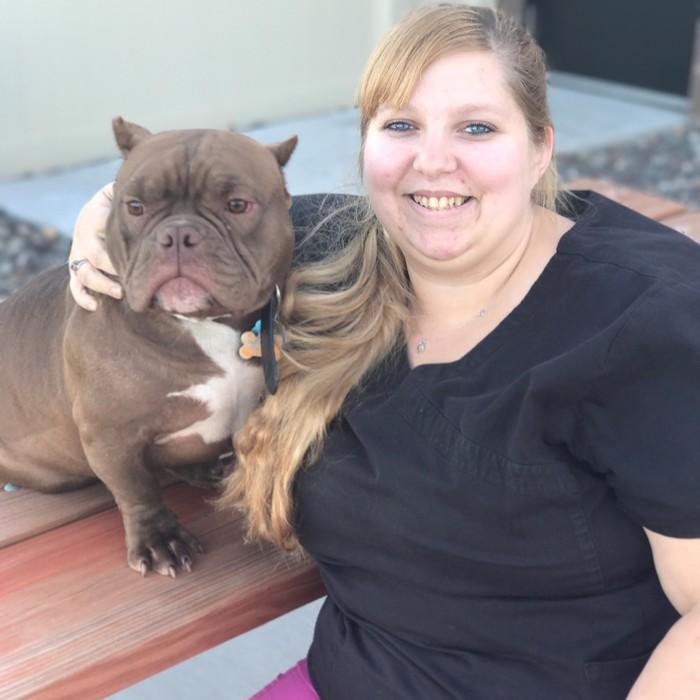 Amanda
Amanda got her AAS degree in Veterinary Technology from Globe University in March of 2014 and then passed her certification exam in July of that year. Amanda joined our team in April of 2015. Amanda enjoys all aspects of being a veterinary technician but takes a special interest in nutrition and nursing sick and injured patients. She is our OSHA Officer and makes sure that the hospital is always in compliance with federal, state and local regulations for the health and safety of our staff. In her spare time she enjoys crochet, cross stitch, sewing, and reading. She is greeted at home every night by her fiancé Aaron, sons Kayden and Seth, stepdaughter Lily, her bulldog mix "Yoshi", her cat "Leonard" and her plecostomus fish "Paul".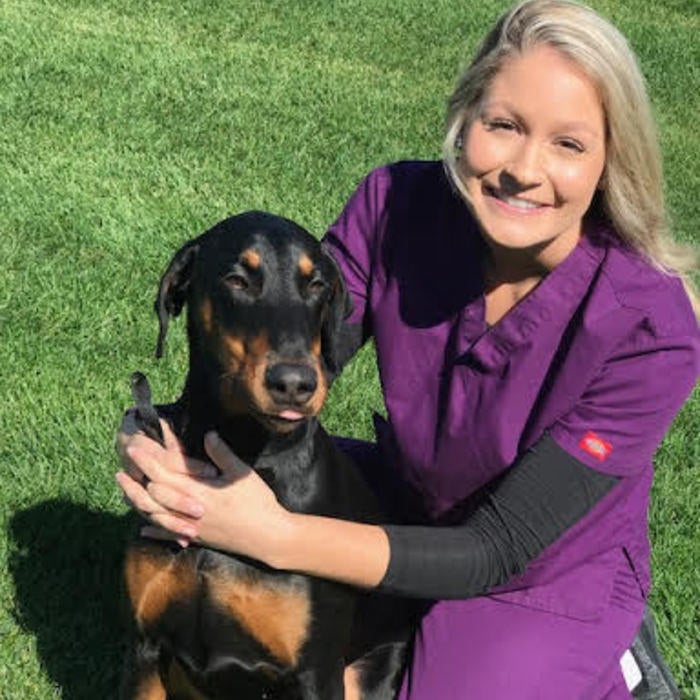 Nicole
Nicole began her career as an intern at Andover Animal Hospital in 2015. She soon after graduated from Minnesota School of Business with an Associate in Applied Science as a Certified Veterinary Technician. She enjoys assisting with surgeries and monitoring pets while under anesthesia. In her free time, she frequently goes fishing, camping, and hiking with friends and family. At home, she spends time with her two cats, Peach and Tuna, and Raven, her Doberman Pinscher, who loves to go on hiking trips to Taylors Falls and Duluth.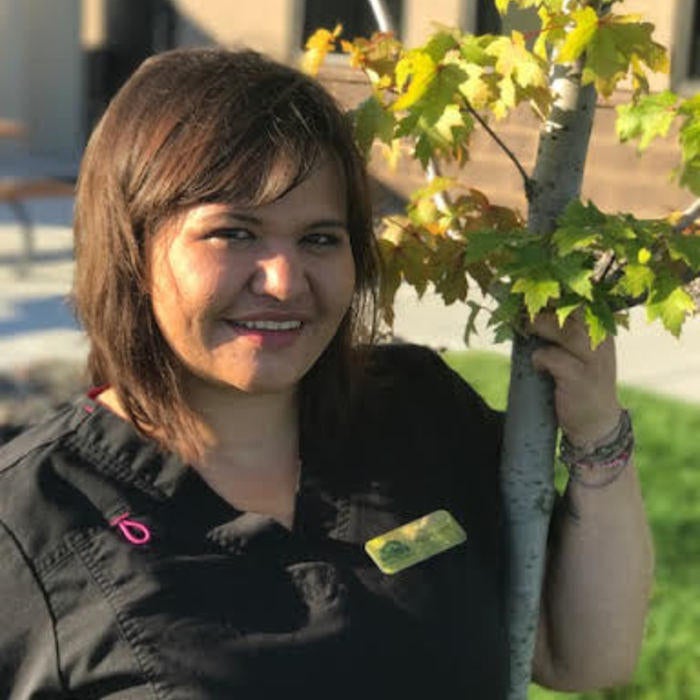 Riley
Riley started her career as a kennel attendant at the age of 15, from there she became kennel manager, then gained on the job training as a veterinary assistant and receptionist. She became certified as a veterinary technician and graduated with an A.A.S in 2005. Riley loves working in veterinary medicine and especially enjoys working as a surgical technician. She is planning to become Low Stress Handling certified in 2018. Her favorite part of working in a general practice is developing a relationship with both clients and their pets. Outside of work she has an energetic little boy Oliver that keeps her on her toes, as well as Oliver's kitten AndyPants, her cat Izzy and their goldfish named Boy.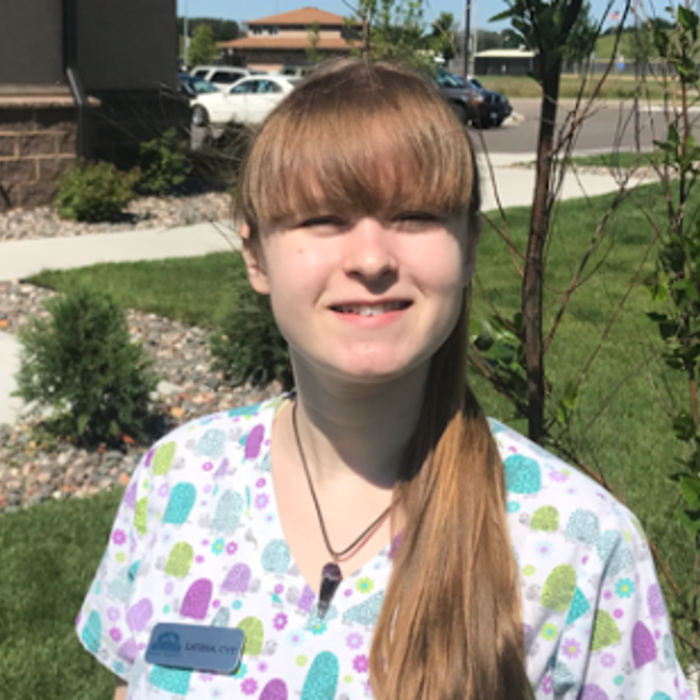 Larissa
Larissa graduated from Argosy University with her AAS in veterinary technology and has been a Certified Veterinary Technician since 2015. She joined our team in April 2017. Larissa has always loved working with animals; before she was a technician she did dog walking, boarding, and doggy day care. Larissa's "children" are her 2 cats, Arwen (siamese) and Gimli (manx); a pitbull/aussie puppy named Bilbo Doggins; and two lovely western painted turtles named Koopa and Bowser. In her free time she enjoys renaissance festivals, pottery, costuming, cross stitching, and digital illustration.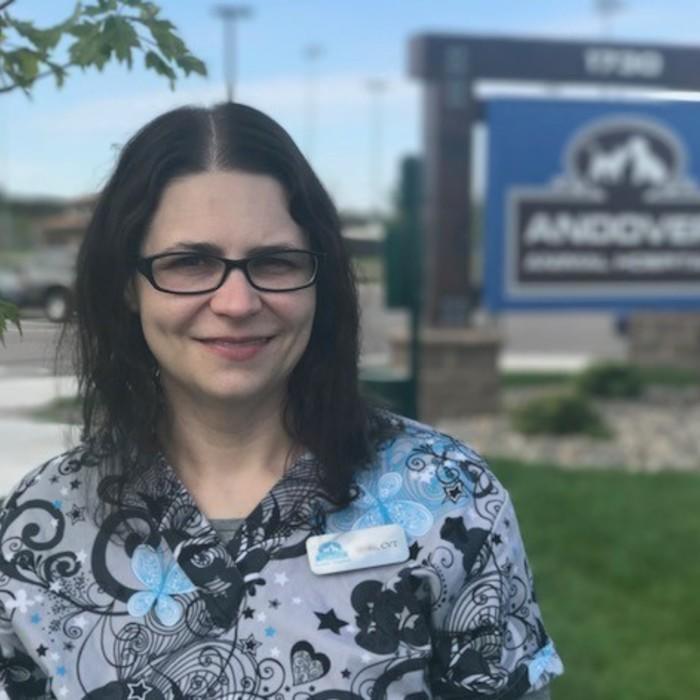 Lori
Lori joined Andover Animal Hospital in July 2017 as a Certified Veterinary Technician (CVT). Lori earned her associates degree in 2013 from Pima Medical Institute in southern California and became a Registered Veterinary Technician that same year. Lori also earned her BA in Psychology from San Diego State University in 2006, graduating summa cum laude, but decided to change career paths shortly thereafter. Lori grew up on a christmas tree farm in Oregon, relocated to southern California for college, then moved in June 2016 and received her CVT in Minnesota. Lori greatly enjoys working with cats, assisting with surgery, and being able to do many different tasks as a technician. In her free time, Lori loves traveling, reading, arts and crafts, and spending time with her family and friends. Lori is greeted each night by her husband of 10 years, their two cats (Miss Pearl and Tubby) and a betta fish.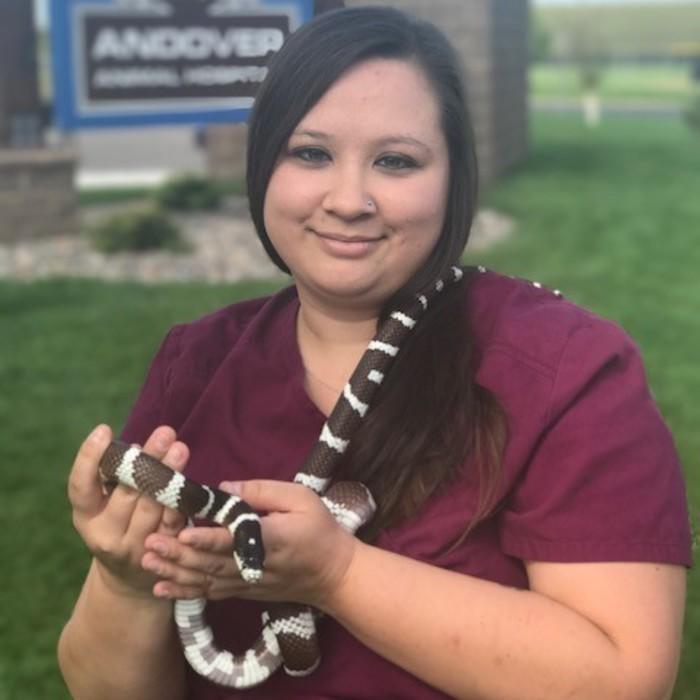 Sophie
Sophie has been in the veterinary field for 13 years. She started out as an assistant with Andover Animal Hospital in August 2017. She did take a short break in 2019 to work for Animal Control, but she missed her Andover family so much that she came back to work as a technician after just a few months. Sophie enjoys the variety that the veterinary field offers but takes a special interest in taking care of geriatric pets and developing relationships with clients. In her spare time, Sophie enjoys reading and spending time with her daughter Riley. They love to do puzzles, play dolls, fish and go out to eat! Rachel
Bio coming soon!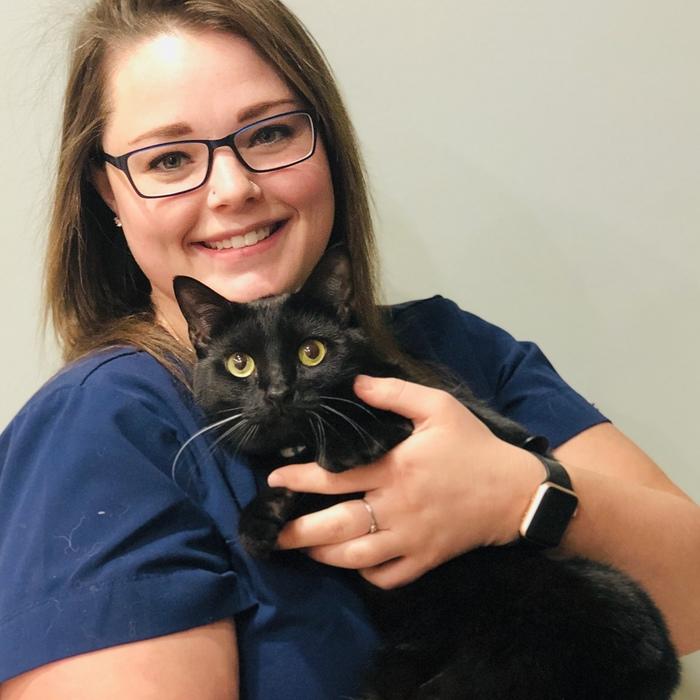 Mandi
Mandi graduated from Argosy University in 2015 with an associate in applied science degree as a veterinary technician. She enjoys working closely with doctors to help animals. One of her favorite things to do as a technician is surgery. In her free time, she loves to travel anywhere she can, loves to take trips up to the north shore with her family and friends. At home she is greeted by her cat Zola, Miniature Yorkies Bear and Harley, and Pitbull Storm.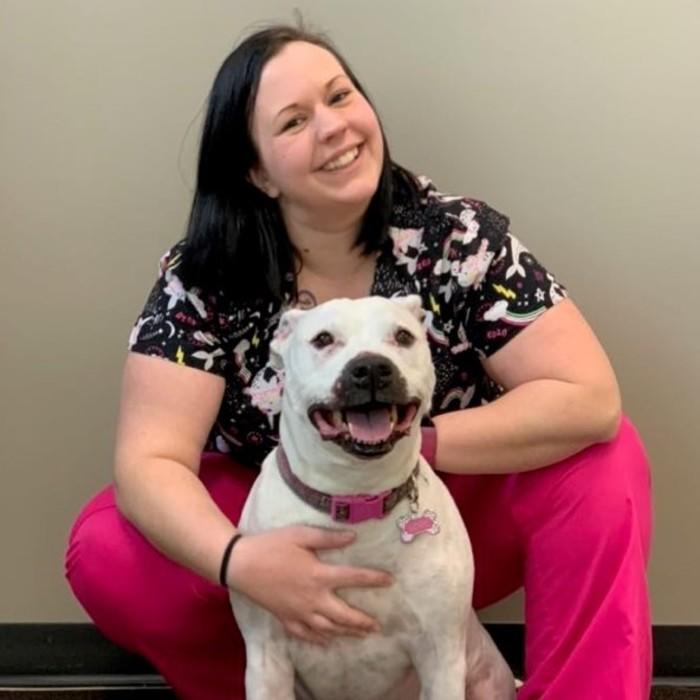 Tracy
Tracy joined the AAH family in June 2019 and has always known she wanted to work with animals since she was a little girl. She specifically enjoys lab work and client education in the veterinary field. If Tracy happens to be your tech and you have a new puppy or kitten, expect her to take them all throughout the hospital showing them off. When she is not at work she enjoys watching Marvel movies, swimming, playing video games and she is greeted home by her pitbull Love, and her one-eyed pirate cat Jersey.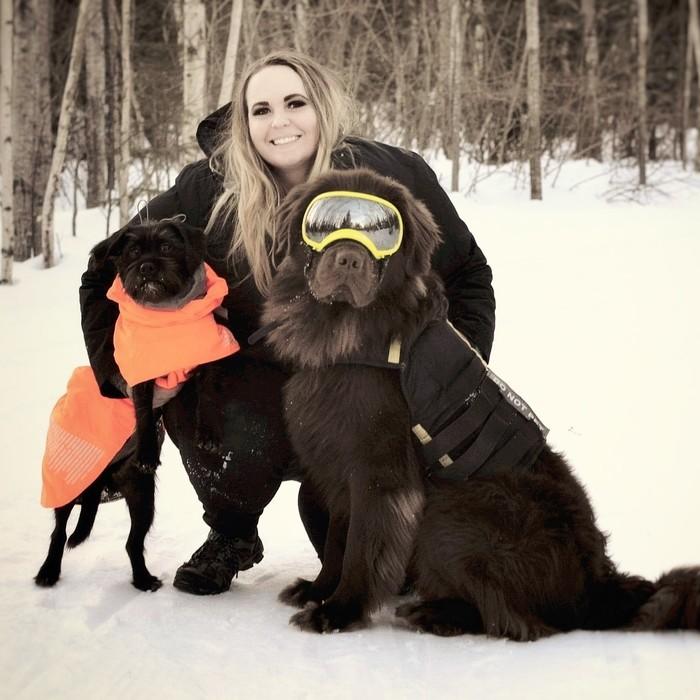 Melissa
Melissa has always had a love/passion to work with animals since she was a little kid. She started her veterinary career in 2011 directly after graduating with her A.A.S degree in Veterinary Technology from Minnesota School of Business. She shares her home with her 3 cats (Nux, Finnegan Finley, and Franklin B. Oxford) and her 2 dogs (Marnie a Terrier mix and Fezzik a Newfoundland). In Melissa's free time she spends her time outdoors (hiking, kayaking and occasionally camping) with her husband Clint, going to various dog events/sports, and taking pictures for her dogs' Instagram pages.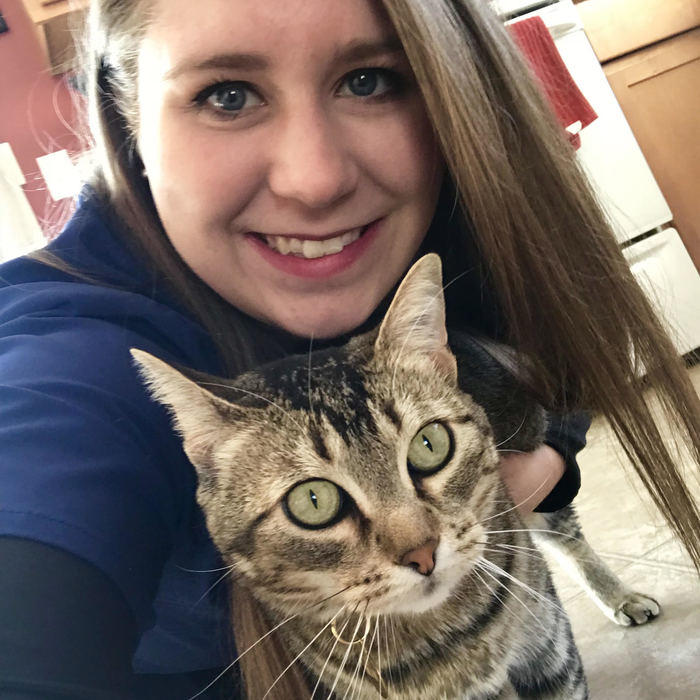 JaquiAssistant
I'm Jacqui! I'm a veterinary assistant. I have a bachelor's degree in animal science. I have always been passionate about caring for pets, and helping others with caring for their pets! In my free time, I enjoy seeing friends and family, staying home to watch Netflix, and finding new hobbies to take up any spare time left. Eventually, I want to get my own fur baby, but until then I will love to help care for all of our client's fur children!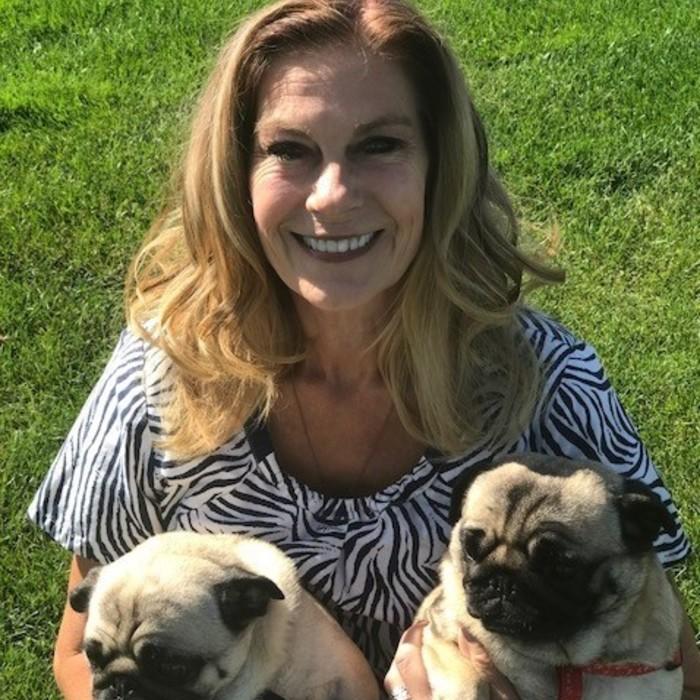 Stacy (Lead)
Stacy has been a team member since June 2007 and is the smiling and cheerful face that greets clients at the reception desk. Her background includes over 11 years experience working as a Veterinary Technician. Stacy is originally from Plymouth and currently resides in Anoka. Stacy has one daughter and 2 grand kids. In her free time Stacy enjoys spending time training, breeding and barrel racing AQHA horses. Stacy's furry friends include her 2 pugs, Carmen and Katy, her 2 Aussies, Red and U TOO. She also has 3 horses and a chicken.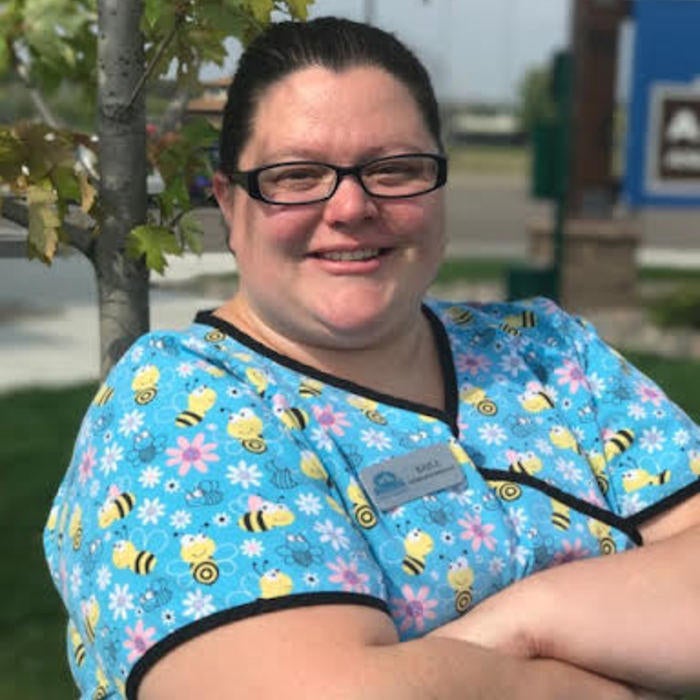 Kayla
Kayla joined the Andover Animal Hospital family as a receptionist in May 2017. She is one of the happy faces you will see upon walking in the door. Prior to finding her love of working at an animal clinic, Kayla received her Bachelor's Degree in Child Development and Family Science from NDSU. After working in childcare for multiple years, she found herself looking for a change. A friend stated that she talked so much about her cat that she should look at doing something with animals. Previous to working at Andover Animal Hospital, Kayla enjoyed 5 years of experience working as a Veterinary Receptionist. In her downtime, Kayla enjoys spending time at the cabin with her family, watching movies, reading, and painting. Currently, Kayla resides with her three cats, Gizmo (the lazy senior), Lady (the cuddle-bug), and Tippy (the hyper, crazy forever-kitten).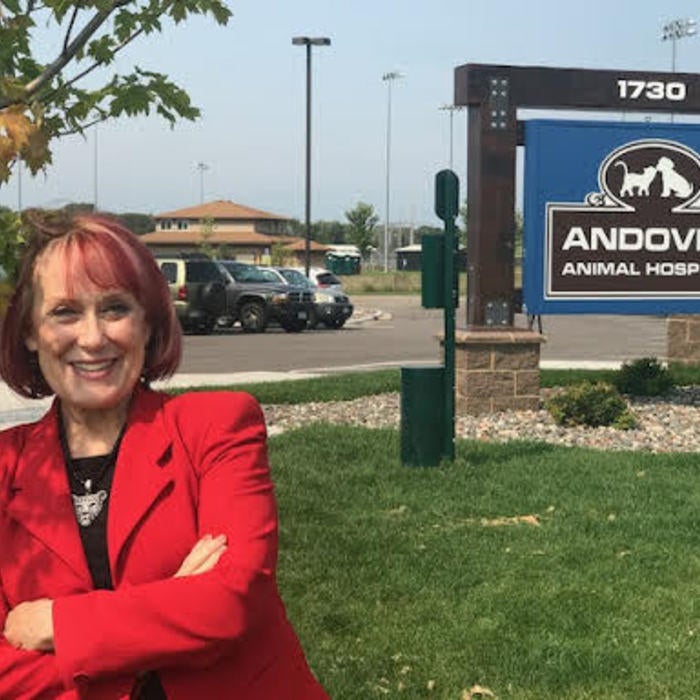 Mary K.
Mary K. loves spending time filling in at the reception desk and always brings a lot of cheer to the front office. Mary K. enjoys her time at the clinic as she spends additional time with her daughter. Mary K. is welcomed home by their faithful furry friends Cookie and Peanut.